Blue Next Cameras
A new dimension of digital camera solutions for mobility and safety applications.
The Blue Next camera series is already the third generation of a system, which has been designed for digital mobility from the start. It has been proven in tough use and incorporates our entire market experience as holistic sensor and application experts. Our 100% in-house production and development partnerships allow us to respond to any customization requests our customers might have.
Product enquiry
---
Automotive qualified.
Proven in the toughest scenarios for our customers.
Our product development and production processes are certified by the International Automotive Task Force (IATF) 16949 quality management system. In addition, the camera and its components have been tested by the Automotive Electronics Council's (AEC) guidelines for operation in extreme environments, such as construction and agricultural settings.
Trucks & busses
This industry is on the move: from turn assistants and mirror replacement systems to remote-controlled or fully autonomous vehicles. Here, particularly flexible and future-proof design is called for. Together with our RADAR products and the First Sensor ECU, the Blue Next cameras are ideally suited for urban traffic and highway applications.
Mining & construction
Modern sensor technology provides more safety in complex working environments. Extremely robust components and economical individualization options, even for small series, are the key here. Industry-specific requirements, e.g. for lighting or de-icing options, are implemented in the modular Blue Next concept.
Aerospace
The Blue Next cameras with their high-tech features and extreme flexibility open up completely new possibilities with regard to providing improved information, increased safety and added value for passengers. In combination with the First Sensor real time data processing ECU sensor, fusion without latency and data recording are made possible.
Special vehicles
Mobile machines and vehicles come in many different shapes and have different requirements. In order to drive and maneuver them with the desired accuracy, it is necessary to enhance vision and issue warnings so as to avoid collisions. The Blue Next cameras with their design-conditioned integration capability and the flexibility of the First Sensor ECU, enable highly specialized vehicle applications.
---
Modular platform design.
From sensor to system has never been so efficient.
The Blue Next camera comes ready-to-use with a wide range of interfaces, configuration options and data formats. The platform design also enables the rapid realization of countless applications. In addition to our extensive sensor experience, we designed a new dimension of modular hardware and software platforms (embedded ECU). It manages different types of Advanced Driving Assistance Systems (ADAS) and Autonomous Driving (AD) functions. This saves our customers development effort during integration and enables endless application scenarios.

First Sensor supplies OEMs, integrators and retrofitters at various stages of the value chain, from components to modules and complete systems.
Sensor Systems
See all camera specifications
Application Platform
More about ECU and ADAS
Applications
---
Outstanding sensitivity and overall image quality.
Possible due to special 6-axis alignment.
1.3 megapixels, high dynamic range (HDR) up to 132 db, high sensor sensitivity (down to 0.05 lux), anti-reflection and anti-scratch coating are only some of the features. The special characteristic of the Blue Next camera is its impressively constant sharpness and overall image quality, enabled by the placement of the lens system via 6-axis alignment and automated production steps set up in a clean-room environment.
Exceptionally consistent and reproducible image quality due to special positioning of the image sensor via 6-axis alignment in our 100% in-house production.
Perfect object detection even in extreme contrasts thanks to High Dynamic Range technology with triple merging and ultra-high sensitivity of up to 132 db.
High degree of freedom and flexibility in application due to multiple lens/optics configurations with different fields of view.
---
Low-Power Operation Design.
Resulting in high resolution with only 2W.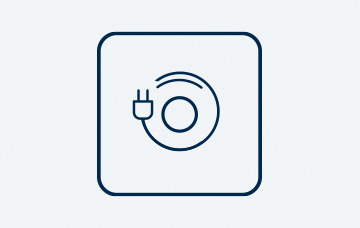 Because of the limited vehicle electrical system, energy consumption is increasingly becoming a criterion for success. By reducing the number of components and optimizing the remaining ones, we have managed to significantly reduce energy consumption. This makes Blue Next attractive for a much wider range of applications.
---